Description
Features
High-performance, cost-effective, small size, light weight (115gr standard version, 40gr OEM version), low power consumption;
High cost performance and reliable inertial sensor of mass production;
-40°C to +60°C, total temperature calibration;
High sampling rate of 1 KHz, compensation operation of 1 KHz, navigation operation of 1 KHz, and 5 Hz Kalman filtering;
Sensor range and precision can be customized as required;
The software, algorithm and interface protocol can be highly customized according to the user's usage scenario; external speedometers, DVL, vision, and radar can be used for integrated navigation.
Support the on-site calibration of magnetic heading and adopt a secondary calibration strategy to cope with harsh magnetic environment. The magnetic heading combination can be performed under certain conditions according to customer requirements.
Accuracy index
Gyroscope: device model ADXRS620, bandwidth 0.01~ 2.5 KHz, default 80Hz; range 300°/s, and the accuracy of the gyro after compensation is 180° / h.
Accelerometer: device model AD22293, can be replaced with the same range of other range of accelerometers. Bandwidth is greater than 100 Hz and accuracy is 1 mg.
Receiver: The built-in receiver is a domestic high-precision receiver UM482, which is compatible with OEM617D in commands and protocols.
Support BDS B1/B2 + GPSL1/L2 + GLONASS L1/L2 + Galileo E1/E5b;
Support RTK differential, dual antenna orientation;
Positioning and orientation simultaneously output, a data output rate above 20Hz;
Single point positioning (RMS): plane 1.5m, elevation 3.0 m;
RTK (RMS): plane 1 cm + 1 ppm, elevation 1.5 cm + 1 ppm;
Orientation accuracy (RMS): 0.2 degrees / 1m baseline;
RTK recapture speed within 1 second.
The receiver's supporting frequency, channel number and the time of lock – out capture are significantly better than that of OEM617D. Up to 40 stars are visible in the open. Under semi-occlusion condition, there are sufficient visible stars to effectively resist multiple paths. Under the condition of half block of buildings and trees, it can provide enough RTK to participate in integrated navigation. The measured initial localization time is less than 30 seconds, the initial orientation time is less than 60 seconds, and RTK positioning can be quickly restored after short-term occlusion. Compared with OEM617D, the receiver features multi-system, multi-frequency point, multi-visible star and high calculating frequency, which can provide reliable positioning data more quickly and effectively.
Combined attitude accuracy: 0.2 degree RMS;
Combined attitude accuracy: 0.2 degree RMS;
External Interface
The RF connector is an externally threaded internally bored SMA connector.
The external low frequency connector is a DB15 small gold-plated connector, as shown below. Injection molded test cables are available.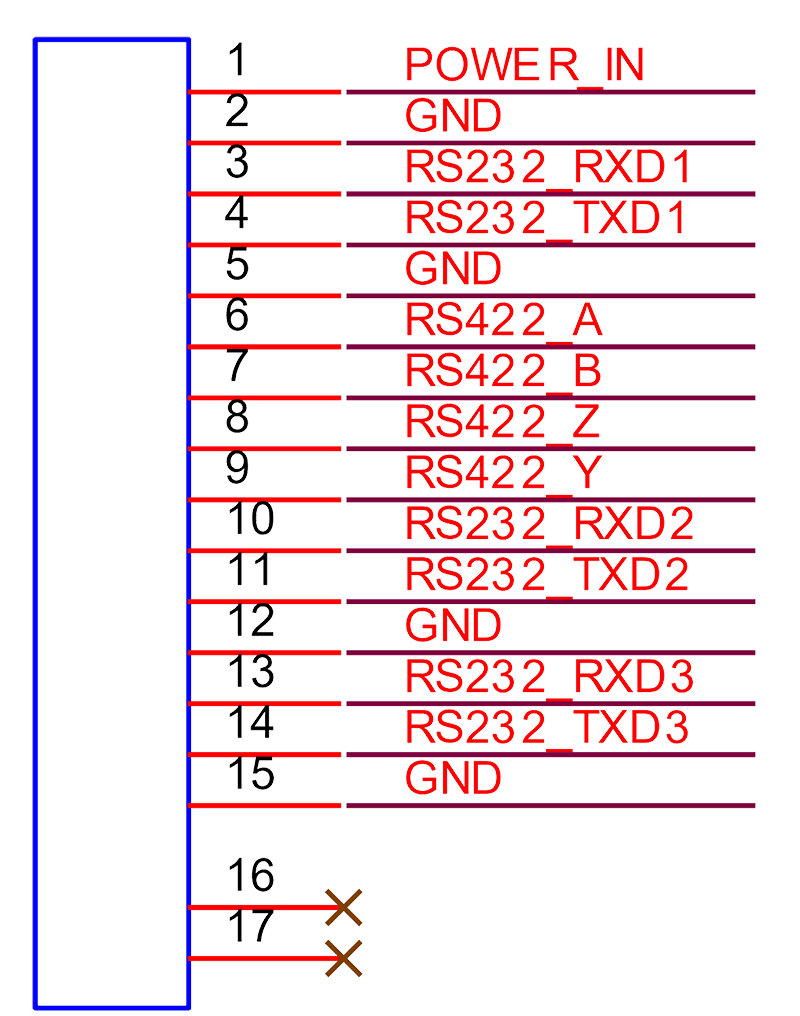 | | | |
| --- | --- | --- |
| No. | Name | Description |
| 1 | POWER_IN | Power supply, 7v-40v, power consumption 3W |
| 2 | GND | GND |
| 3 | RS232_RXD1 | INS external 232 interface (Receive odometer information) |
| 4 | RS232_TXD1 | INS external 232 interface |
| 5 | GND | INS external 232 interface |
| 6 | RS422_A | INS external 422 interface |
| 7 | RS422_B | INS external 422 interface |
| 8 | RS422_Z | INS external 422 interface |
| 9 | RS422_Y | INS external 422 interface |
| 10 | RS232_RXD2 | COM1 of UM482 (RTK information input interface, or user free configuration protocol) |
| 11 | RS232_TXD2 | COM1 of UM482 (RTK information input interface, or user free configuration protocol) |
| 12 | GND | GND |
| 13 | RS232_RXD3 | COM2 of UM482 (RTK information input interface, or user free configuration protocol) |
| 14 | RS232_TXD3 | COM2 of UM482 (RTK information input interface, or user free configuration protocol) |
| 15 | GND | GND |