Y11 Series Connector
Environmental Specifications
Operating temperature: -55 to +125°C
Relative humidity: 90-95% at 40±2°C
Operating pressure: 101.33 kPa~4.39 kPa
Rain proof: Rainfall capacity 5 mm/min
Salt spray: 48h (P, X, H), 96h (S), 500h (D)
Hermetic Sealing: Glue sealed receptacle 0.2MPa; Glass sealing receptacle no more than 1×10-5 Pa·L/s
Electrical Specifications
Characteristics of contact
Diameter of pin (mm)

Ø1
Ø1.5

Operation current (A)

5
10
Materials
Copper alloy

Ferrous alloy

Copper alloy

Ferrous alloy

Contact Resistance (mΩ)
≤5
≤15
≤3

≤10
| | | | |
| --- | --- | --- | --- |
| Standard atmospheric condition | Wet | Rainy | High-temperature |
| ≥3000 MΩ | ≥20 MΩ | ≥20 MΩ | ≥500 MΩ |
| | | |
| --- | --- | --- |
| Standard condition | Low pressure condition | Hot and Humid conditions |
| AC 1500 Vrms | AC 200 Vrms | AC 500 Vrms |
Electrical continuity between the shells: not more than 200 mΩ
Electromagnetic interference (P class): at 800 MHz, the lowest attenuation is 45 dB
Mechanical Specifications
Housing: aluminum alloy (X, P), iron-nickel alloy (H), copper alloy (S), stainless steel (D)
Plating: Class X – black anodized, non-conductive shell; P class – Electroless nickel plating, conductive shell;
Class H – Nickel plated, conductive housing; Class S – Nickel plated, conductive housing; Class D – Anodized
Insulator: thermoplastic engineering plastics
Rubber pad: silicone rubber material
Contact: copper alloy material, iron-nickel alloy material (only H class)
Sinusoidal vibration: 10Hz ~ 50Hz, double amplitude 2mm 50Hz ~ 2000Hz, 196m/s2
Random vibration: The power spectral density is 4g2/Hz, and the root mean square value is 239.1m/s2.
Shock: 980 m/s2
Mechanical life: 500 times (P class 250 times)
Ordering Format
Y11
X
II
–
20
41
Z
J
10
–
2
Y11 series
Y11
Category:

X-rubber seal;
H-glass seal (receptacle);
P-shield sleeve;
S-copper shell seal;
D-stainless steel shell

X
Insulation mounting plate position change number:

I, II, III, IV, V, I position need not to mark

II
Housing number:

08, 10, 12, 14, 16, 18, 20, 22, 24

20
Contact arrangements:

4, 7, 8, 10, 12, 16, 19, 21, 26, 32, 41, 55, 61

41
Shell type:
Z
Contact type:

J-pin;
K-socket;
S-through wall pin hole

J
Socket installation:

10-square flange type;
11-round flange type;
14-nut mounting type.

10
Cable cover form:
2
Note:  socket installation mode sign is only available for sockets, the plug does not have the sign.
Ordering Guide:
The user can order according to the required functions, and the manufacturer assembles and supplies according to the functions required by the user to achieve reasonable and economical use.
Special orders must refer to the above special component structure, order by component code. The component code is Y11-××OO-80, Y11-××OO-81, Y11-××OO-83, Y11-××OO-84, Y11-××OO-85, Y11-××OO-86, Y11-××OO-87, Y11-××OO-88, and Y11-×× OO-89. If there is "××OO" in the middle of the mark number, it means that the shell number can be selected at will. For example, if you want to order for the plug metal dust cover of housing No. 14, write Y11-1400-80 on the order form; if you want to order the metal dust cover of the housing No. 10 receptacle, write Y11-1000-81; To order the housing No.18 empty receptacle, write it on Y11-1800-83;
The headstock cable cover of Y11S series needs to be ordered separately, the code is Y11-××00-93, and the structure is the clamped wire cable cover.
Dimensions
Shell
A
MD
H
L±2
08
Φ20
M14*1
Φ6
39
10
Φ23
M18*1
Φ8
39
12
Φ26
M20*1
Φ10
41
14
Φ30
M24*1
Φ12
47
16
Φ33
M27*1
Φ14
47
18
Φ36
M30*1
Φ17
47
20
Φ39
M33*1.5
Φ20
49
22
Φ42
M36*1.5
Φ24
49
24
Φ45
M39*1.5
Φ27
54

Contact arrangement
0804
1007
1204
1208
1210
1412
1419
1626
1832
2016
2041
2221
2255
2461

Square flange socket
Shell
A
B
D
E
MD1
H
L±2
08
21
15±0.15
13
1.5
M14*1
6
39.5
10
24
18±0.15
16
1.5
M18*1
8
39.5
12
27
21±0.15
20
1.5
M20*1
10
41. 5
14
30
23±0.15
23
1.5
M24*1
12
47.5
16
33
25+0.15
26
1.5
M27*1
14
47.5
18
36
27±0.15
29
1.5
M30*1
17
47.5
20
39
29±0.15
32
2.2
M33*1.5
20
49.5
22
42
32±0.15
35
2.2
M36*1.5
24
49.5
24
45
35+0.15
38
2.2
M39*1.5
27
54.5
Wall mount square flange receptacle
Shell
A
B
D
08
21
15±0.15
Φ13
10
24
18±0.15
Φ16
12
27
21±0.15
Φ20
14
30
23±0.15
Φ23
16
33
25±0.15
Φ26
18
36
27±0.15
Φ29
20
39
29±0.15
Φ32
22
42
32±0.15
Φ35
24
45
35±0.15
Φ38

Square flange glass sintered receptacle
Shell
A
B
DI
K
08
21
15±0.15
Φ13
3.5
10
24
18±0.15
Φ16
3.5
12
27
21±0.15
Φ20
3.5
14
30
23±0.15
Φ23
3.5
16
33
25±0.15
Φ26
3.5
18
36
27±0.15
Φ29
3.5
20
39
29±0.15
Φ32
3.5
22
42
32±0.15
Φ35
3.5
24
45
35±0.15
Φ38
3.5
Round flange receptacle (with clamped cable cover assembly)
Shell
DI
D2
D3
D4
M
L3
L2
Ll±2
08
13
17
6
16.2
M14*1
20
1.5
39.5
10
16
20
8
19
M18*1
20
1.5
39.5
12
20
22.5
10
23
M20*1
22
1.5
41. 5
14
23
26.5
12
26
M24*1
28
1.5
47.5
16
26
29.5
14
29
M27*1
28
1.5
47.5
18
29
32.5
17
32
M30*1
28
1.5
47.5
20
32
35.5
20
35
M33*1.5
30
2.2
49.5
22
35
38.5
24
38
M36*1.5
30
2.2
49.5
24
38
41.5
27
41
M39*1.5
35
2.2
54.5

Nut mounting Receptacle
Shell
DI
D2
A
B
C
M
K
08
13
27
24
22
15
M16X1
1.6-8
10
16
31
27
24
19
M20X1
1.6-8
12
20
35
32
27
23
M24X1
1.6-8
14
23
38
36
30
26
M27X1
1.6-8
16
26
42
38
32
29
M30X1
1.6-8
18
29
45
41
36
32
M33X1.5
1.6-8
20
32
49
46
41
35
M36X1.5
1.6-8
22
35
53
50
43
38
M39X1.5
1.6-8
24
38
56
53
46
41
M42X1.5
1.6-8

Nut mounting glass sintered receptacle
Shell
DI
D2
A
B
C
M
L2
LI
K
08
13
27
24
22
15
M16*1
2.5
21
1.6-3.2
10
16
31
27
24
19
M20*1
2.5
21
1.6-3.2
12
20
35
32
27
23
M24*1
2.5
21
1.6-3.2
14
23
38
36
30
26
M27*1
2.5
21
1.6-3.2
16
26
42
38
32
29
M30*1
2.5
21
1.6-3.2
18
29
45
41
36
32
M33*1.5
2.5
21
1.6-3.2
20
32
49
46
41
35
M36*1.5
3
25.5
1.6-6.4
22
35
53
50
43
38
M39*1.5
3
25.5
1.6-6.4
24
38
56
53
46
41
M42*1.5
3
25.5
1.6-6.4

Y11H-0804ZJ11 Round flange glass sintered receptacle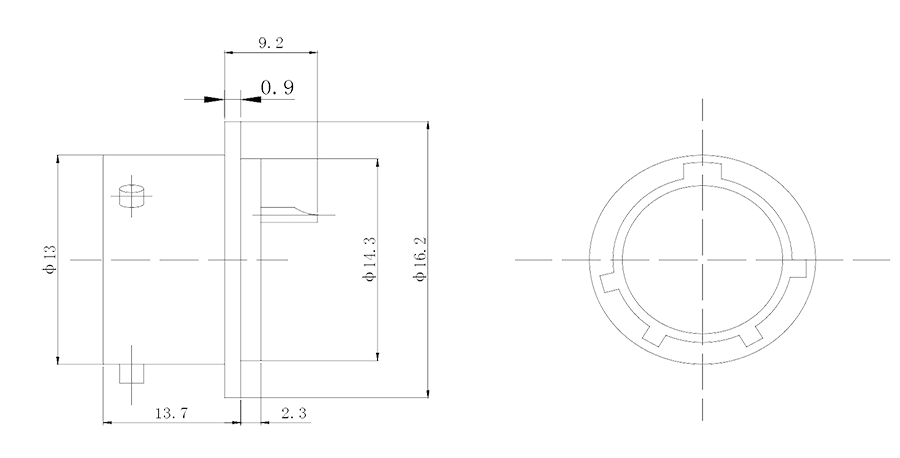 Accessory outline drawing
| | |
| --- | --- |
| | |
| Plug metal dust cover | Receptacle metal dust cover |
Empty receptacle assembly (Y11 ××OO 83)
Shell
08
10
12
14
16
18
20
22
24
D
13
16
20
23
26
29
32
35
38
A
21
24
27
30
33
36
39
42
45
B
15
18
21
23
25
27
29
32
35
Open long cable cover (Y11 ××OO 85)
Shell
A
L1
L2
B
M
Outlet
08
Φ17
15
29
2. 5
14*1
Φ10
10
Φ20
15
29
2.5
18*1
Φ12
12
Φ24.5
15
31
2. 5
20*1
Φ14
14
Φ26.5
15
31
3
24*1
Φ16
16
Φ29.5
20
38
3
27*1
Φ18
18
Φ32.5
20
39
4
30*1
Φ20
20
Φ35.5
20
40
4.5
33*1.5
Φ20
22
Φ38.5
22
42
5
36*1.5
Φ22
24
Φ41.5
22
42
5
39*1.5
Φ24

Shielded cable cover (Y11 ××OO 86)
Shell
L
A
H
Shell
L
A
H
08
35
19
10
18
50
34
20
10
35
21
14.5
20
50
37
22.5
12
37
25.5
14. 5
22
50
38.5
22.5
14
40
29
16. 5
24
50
41. 5
24
16
40
30
16. 5

Short circuit cap (Y11-0804-87)

Long cable cover assembly
Shell
DI
D2
LI
MC
D
LI
L2
08
17
6
35
14*1
17
29
35
10
20
8
35
18*1
20
29
35
12
22.5
10
37
20*1
22.5
30
37
14
26.5
12
43
24*1
26.5
34
43
16
29.5
14
43
27*1
29.5
34
43
18
32.5
17
43
30*1
32.5
34
43
20
35.5
20
45
33*1.5
35.5
36
45
22
38.5
24
45
36*1.5
38.5
36
45
24
41.5
27
50
39*1.5
41.5
41
50
Note: Y11-×× 00-88 aluminum alloy black anodized, Y11-×× 00-88c aluminum alloy nickel plating
Heat shrinkable sleeve type 1 cable cover assembly (Y11-××00-84, 45 steel tin plated)
Shell
LI
L2
A
B
C
D
M
M2
08
27
15
20
9
11
13
14*1
2.5
10
27
15
24
10
12
14
18*1
2.5
12
30
15
26.5
13
15
17
20*1
2.5
14
31
16
30. 5
17
19
21
24*1
3
16
31
18
33
18
20
22
27*1
3
18
34
22
36
23
25
27
30*1
3
20
35
20
39.5
24
26
28
33*1.5
3
22
34
22
42
27
29
31
36*1.5
3
24
36
24
45
30
32
34
39*1.5
3

Heat shrinkable sleeve type 2 cable cover assembly (Y11-××00-89, 45 steel tin plated)
Shell
A
B
C
D
Ml
LI
L2
M2
08
20
8.7
12.8
14.8
14*1
33
20
2.5
10
24
10
14.4
16.4
18*1
33
20
2.5
12
26.5
15
19.1
21.1
20*1
33
20
2.5
14
30.5
18.2
22.3
24.3
24*1
33
20
3
16
33
18.2
22.3
25.3
27*1
33
20
3
18
36
24.5
28.7
30.7
30*1
33
20
3
20
39.8
24.5
28.7
30.7
33*1.5
33
20
3
22
42
27.7
30.8
33.8
36*1.5
35
20
3
24
45
30
31.8
34
39*1.5
35
20
3